← Back
MyTime $250 Flex Plan $250.00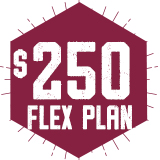 · $250 Flex Dollars per semester
· Flex left from fall semester rolls over to spring semester, funds left at the end of spring semester will expire
Ready to Purchase?
Click the Buy on MyKU link to be redirected to the portal site.
Be prepared to enter your Student ID & Password.
From the top menu, select "Dining"
Then select "Select/Change My Plan"
Under Dining Plans, select the proper term.
Then under Dining Plans, choose "Select Dining Plan".
There will then be a list of possible selections to choose from. Select your choice.
Submit your meal plan selection.
*Please note: Listed pricing is tentative until approved by the University.